Six-Point Mastery Learning Model®
At Roseman University, our philosophy has and will always be to afford students the highest quality healthcare education using innovative, effective learning practices. To carry out this vision, we utilize a Six-Point Mastery Learning Model® that fosters a collaborative learning environment and yields unprecedented levels of student achievement.
Our Vision for Your Education
We believe deep learning and content mastery produces the best possible student outcomes. Rather than emphasize grades, we focus on your achievements to ensure full comprehension of core nursing concepts and skills. By choosing Roseman University to pursue your nursing degree, you'll become part of an engaged, highly supportive learning environment that:
Encourages active participation and teamwork
Focuses on one area of nursing at a time
Goes beyond the memorization of facts
Identifies and remedies competency issues right away
Provides early exposure to the nursing profession
How We Point You Toward Success
Your mastery learning of the ABSN curriculum is made possible through six key components that reinforce one another and contribute to an unparalleled educational environment.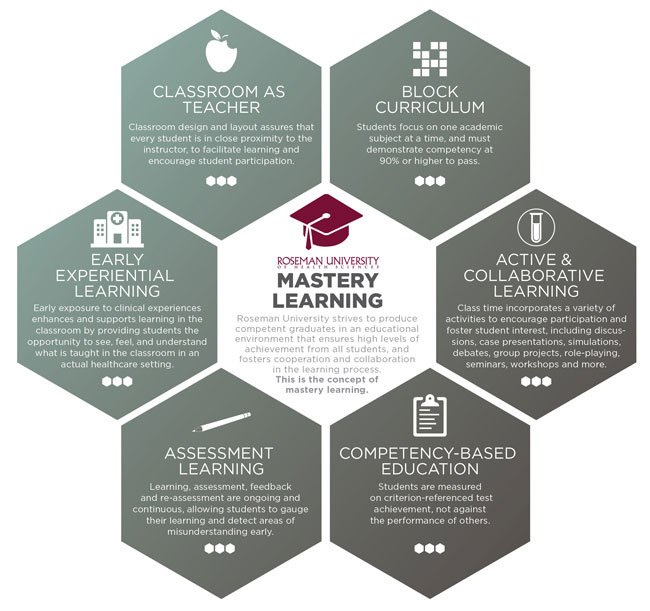 Block Curriculum. Our block curriculum lets you focus on and master one content area of nursing at a time.
Active and Collaborative Learning. Our ABSN program has you complete a variety of learning activities that help reinforce nursing concepts and facilitate teamwork.
Competency-based Education. We measure your competency against a specific set of criteria rather than using norm-referenced testing that estimates a student's position in a predefined population (grading on a curve).
Assessment Learning. We frequently assess your understanding of the ABSN course material, allowing you to remedy areas of misunderstanding as soon as possible.
Early Experiential Learning. Clinical rotations at nearby healthcare facilities start building your basic nursing skills during the first semester of the program.
Classroom as Teacher. Moving away from lecture-style instruction, our inclusive, circular classroom design not only encourages student participation, it ensures your seat is always near the instructor.
Contact us to learn more about our Six-Point Mastery Learning Model®.