Clinical Rotations in Diverse Healthcare Facilities
Clinical rotations play an important role in your accelerated nursing education, affording you valuable hands-on experience with actual patients. Depending on your campus of enrollment, you'll complete your clinicals at top healthcare facilities near Las Vegas or Salt Lake City.
You can expect your clinical rotations to occur in stints of two to four weeks and comprise either three, 12-hour days or five, 8-hour days. During your rotations, we do not assign any online or lab coursework so you can remain highly focused on your clinical application.
Connect with Patients
Clinical rotations provide a deeper understanding of the nursing profession by putting you in direct contact with patients. Under supervision, you will help care for patients in different areas of nursing practice, including adult health, mental health, and pediatrics.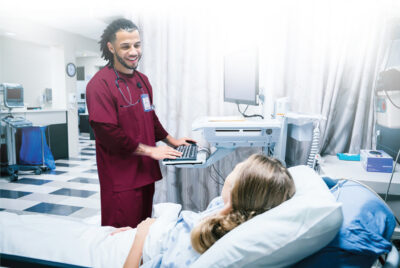 Your instructor/preceptor will show you the ropes and teach you how to safely and effectively put your nursing knowledge and clinical skills to work. Because building rapport with patients often leads to better outcomes, your instructor/preceptor will also coach you on how to:
Exhibit genuine caring behavior
Engage in effective communication
Employ highly ethical perspectives
While the length and location for each of your clinical rotations will vary, these diverse experiences not only help prepare you for the future, they make it easier to determine what area of nursing best fits your long-term career goals.
Go Beyond the Bedside
Clinical rotations take you beyond the bedside by allowing you to experience what it's like to be part of a complex medical team and how to work within specific hospital protocols. As part of the ABSN curriculum, you will also learn about the legal-ethical framework governing professional nursing practice. Therefore, it's important to always put your best foot forward during your clinical rotations and use every experience to your advantage—you never know who could be a potential colleague in the future.
Feel the Pulse of the Profession
As one of our accelerated nursing students, you can expect to gain unprecedented clinical experiences while assisting some of the best nurses in the Las Vegas or Salt Lake City area. The clinical partnerships we've established within these communities also make for great networking opportunities. Through clinical practice, you become accustomed to the mission and protocols of each healthcare facility, thereby increasing your chances of future employment.
As our ABSN student, you will have the opportunity to assist and network with some of the best medical teams in Las Vegas or Salt Lake City. Contact us to learn more about the value of experiential learning through clinical rotations.