Nursing Simulation Labs Near Las Vegas or Salt Lake City
Experiential learning is key to your nursing education. As part of our accelerated nursing program, you will go to the ABSN campus affiliated with your program of enrollment to complete a series of nursing skills labs and nursing simulation labs. Covering subjects such adult health and pediatrics, these labs allow you to practice your skills under the guidance of faculty in a safe, controlled environment.
Nevada-based ABSN students attend nursing labs at the ABSN campus in Henderson—just minutes from Las Vegas.
Utah-based ABSN students attend nursing labs at the ABSN campus in South Jordan—just minutes from Salt Lake City.
Skills Practice
Our skills labs allow you to put your nursing theory knowledge into practice. Featuring medical equipment and low-fidelity medical manikins, these labs teach you how to perform comprehensive health assessments on patients as well as carry out core nursing functions such as monitoring blood pressure, checking vital signs, and administering IVs.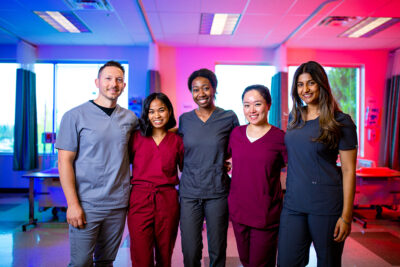 Real-world Preparation
Designed to enhance your critical thinking and decision making skills, nursing simulation labs get you as close as possible to real clinical scenarios. Featuring modern hospital equipment and lifelike, high-fidelity medical manikins, these labs make you feel as if you are in a real medical situation tending to patients with a variety of symptoms and ailments.
During these labs, you will develop and evaluate complex interventions to improve health. Following are the three main components of a nursing simulation:
Preparation work for a specific clinical scenario
Completion of the simulation under instructor supervision
Performance evaluation and debriefing with instructor
Overall, nursing simulation labs prepare you to assist in patient care during your clinical rotations at various healthcare facilities. Therefore, it's important to ask questions during these labs should you need clarification on how to apply nursing theory in professional practice.
Technology as Teacher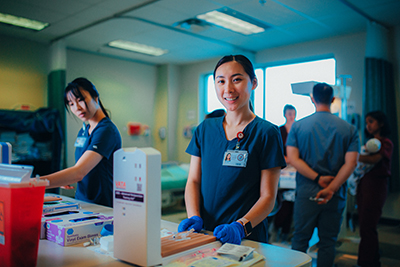 High-fidelity medical manikins contribute to mastery learning by allowing you to react and respond to a wide variety of human responses. From bleeding to giving birth, these computerized, anatomically correct manikins let you experience the pressure of handling complex interventions to improve health.
Medical manikins allow you to:
Apply critical thinking skills in high-risk trauma scenarios
Learn from and correct mistakes with the help of faculty
Practice teamwork in interactive patient care strategies
Simulated learning experiences with computerized manikins also expose you to situations you may not get to see during your clinical rotations.
Contact us to learn how nursing skills and simulations labs are key to a quality nursing education.