Roseman's ABSN Program is a 16-Month Interview with Some of the Best Medical Facilities in Nevada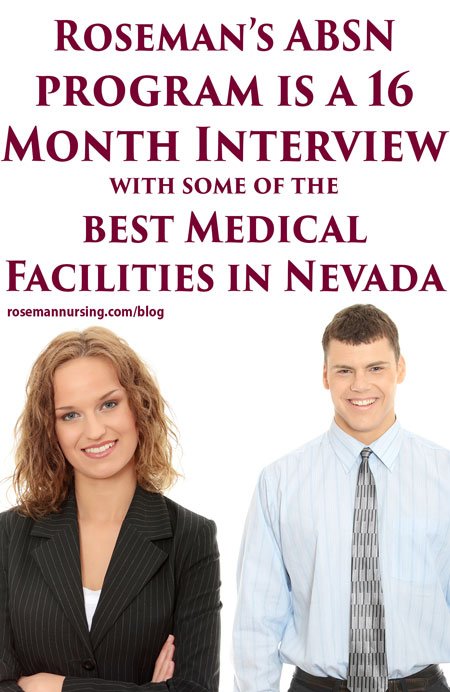 If you stop to think about it, your accelerated nursing program in Nevada is actually a 16-month interview. During those short months, you'll network with peers, professors and potential employers—all of whom can help you land a job after you graduate.
Your peers and professors may have industry contacts you don't that could be helpful for your job hunt, and making good impressions on them will go a long way when you need references.
Most importantly, as a part of your accelerated BSN, you will be required to complete more than 800 hours of clinical rotations in medical facilities around the greater Las Vegas area. Not only is this an opportunity to gain real-world experience in a safety-net environment, but you'll get to meet other nursing professionals who could someday help you get a job at that facility.
Roseman University's accelerated BSN program partners with some of the best of the best medical facilities in Nevada. Each hospital has their own area of award-winning expertise. You won't find opportunities like this just anywhere.
University Medical Center (UMC)
Voted the Best of Las Vegas for the past two years running, UMC is the first and only trauma center and transplant center in all of Nevada. In addition, it is the first and only facility that has a burn center in their region. They are widely known for their Level II Pediatric Trauma Center and Level II Neonatal Intensive Care Unit. With numerous awards from the American Heart Association and accreditations, UMC offers Roseman nursing students excellent experience and opportunities.
In June 2014, the American Nurses Association awarded St. Rose Dominican Hospital for Outstanding Commitment to Quality Patient Care. This is just one of many awards the hospital has received for the compassionate care patients receive. In April 2014, St. Rose Dominican received a prestigious, international recognition as an official Baby-Friendly Designated birth facility—a first for any southern Nevada facility.
The Valley Health Systems is comprised of five hospitals: Centennial Hill, Desert Springs, Spring Valley, Summerlin and Valley Hospital Medical centers. Each of these acute care facilities offer comprehensive services (cardiovascular, neurosciences, emergency and surgical care) and also have several specialty programs such as stroke, pediatrics, wound care and acute rehabilitation. If you're not sure which nursing specialty you're interested in going into, getting in at Valley Health Systems for your clinicals will give you exposure to a variety of options.
Another network, Sunrise Health Hospitals comprises of Sunrise, Sunrise Children's, Mountain View and Southern Hills hospitals. Each of these facilities have their own claims to fame that would make any nursing student jealous of your clinical hours.
Sunrise has Southern Nevada's first combined Joint Commission certified Knee, Hip and Spine program.
Sunrise Children's Hospital is Nevada's largest and most comprehensive children's hospital, so if you want pediatrics, you'll be hard pressed to find better.
Mountain View is the only hospital in the area to offer on-site Cardiac Rehabilitation.
Southern Hills has an emergency department with fast-track beds for expedited care.
The 16-Month Interview
You can start networking from the day your accelerated BSN program begins. Your professors will have industry contacts you can utilize in your job search. Your clinicals will provide you with in-person interactions at facilities who may be looking to hire new graduates. Your fellow nursing students, soon to become friends, will have clinicals at different facilities meeting different potential employers. Make every interaction you have throughout nursing school count. Build relationships and keep in touch with the people you meet. All too often, it's who you know, not what you know, that gives you an edge when looking for employment.
If you ready to get started on your 16-month journey to the rewarding career that is nursing, contact us today to speak with an advisor.