What You Can Expect From Your First Day of Nursing School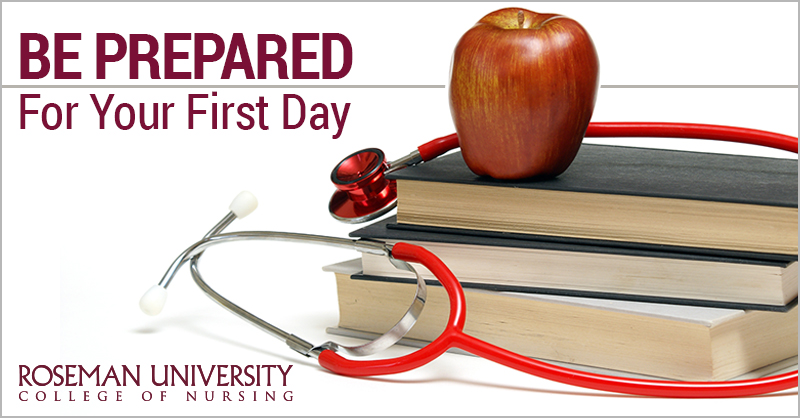 You're ready to pursue your nursing education through Roseman University's Accelerated Bachelor of Science in Nursing (ABSN) program. Yet, you're nervous and uncertain of what the first day of nursing school will bring. Do you have what it takes? What materials will you need? Better yet, what will your support system look like?
These are all common questions students before you have asked themselves prior to starting their first day. The good news is you don't have to begin your nursing education with blinders on. Before your first official day of nursing school, you will be required to attend a mandatory two-day ABSN orientation.
Orientation: Day 1
Orientation will begin in the morning on both days. After check-in, you will spend a few hours hearing from various College of Nursing faculty members, including the Dean, President, and Chancellor. Faculty members will outline curriculum expectations and provide you with detailed answers to any lingering questions you may have about the program. You will receive various schedules summarizing the locations and times of:
simulation labs
skills labs
clinical rotations
testing
Thirty days before orientation, you will receive an enrollment packet. This packet will inform you of everything you will need to bring to orientation and explain which clinical requirements (immunizations, physical, etc.) and textbooks are needed prior to your first day as an ABSN student.
The first day will cover a plethora of information and will require you to listen closely and take notes. After hearing from faculty members, the Director of Student Accounts will dive deep into the payment of tuition and fees and will explain the ins and outs of financial aid (if applicable to you).
Orientation: Day 2
On the second day of orientation, you will receive a laptop and gain access to the online learning management system (LMS), Canvas, which houses all e-learning content. Canvas will allow you to communicate on a regular basis with faculty, staff, and students in your cohort.
Roseman's e-learning manager will teach you how to log into your account to verify your credentials work. You will also participate in an assessment lockdown browser, which will show you how secure the testing environment is at all times.
Later in the afternoon, you will hear from a group of student mentors who have already started the ABSN program. This is your chance to receive firsthand feedback and input from someone who has been in your shoes.
"This is a really valuable segment of orientation," Admissions Advisor, Emily Thaxton says. "It helps new students feel a little more comfortable and have a friendly face to reach out to down the road for guidance as they advance through the program."
The goal of orientation is to provide you with the resources and tools needed to begin your journey as an accelerated BSN student and remind you that you are on the path toward success.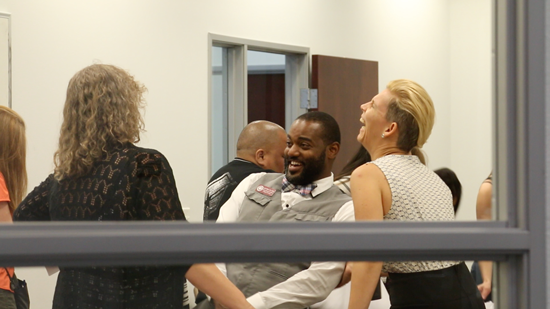 "Orientation is important for students to learn what resources they'll have to ensure their success in our program," says Dr. Brian C. Oxhorn, Dean, College of Nursing, and Associate Professor.
Prepare for Your First Day
1. Be prepared to feel a mix of emotions in the beginning.
Your first day of nursing school shouldn't intimidate you; it should excite you for what's to come. From this point on, you will be receiving a quality education sure to position you for success after graduation. However, it's normal for ABSN students to feel uneasy or intimidated upon walking into orientation day.
"The orientation process was nerve-racking," accelerated BSN student Malarie says. "I had a brand-new backpack and pencil and I was like a new kid going to school for the very first time."
Some students view their first day of nursing school as a fresh start, or a chance to begin again. "I was anxious but also really excited," accelerated BSN student Liz says. "It was the beginning for me – it was the first time in my life where I really looked at my future and said, 'This is what's absolutely right for me.'"
2. Be prepared to meet classmates and mentors from all walks of life.
Lunch will be provided on both days of orientation. This is a great opportunity for you to start connecting with fellow members of your cohort. More than likely the students in your cohort are just as apprehensive as you are about the first day, so it's important you get to know one another during this time.
These students will come from all walks of life and will share different education levels, ethnic backgrounds, and personalities. "I thought I was going to be the oldest one, but then I realized, oh, there's a 50-year-old in here, a 30-year-old mom with three kids, a 27-year-old – it was awesome to see that it was blended. It was much more blended than I thought it would be," Malarie says.
As you advance through the ABSN program, you will grow very close to your cohort – you will work together, perform labs and clinicals together, and graduate together. In fact, as the program builds, your cohort will start to feel like family.
3. Be prepared to succeed.
The underlying message orientation strives to achieve is: yes, the ABSN program is rigorous and fast-paced, but you will have an immense support system and you will succeed. "One of our common philosophies is, 'we are only successful when our students are successful'," Dr. Brian C. Oxhorn says.
Without a doubt, orientation may overwhelm you, but it's setting the tone for the rest of your nursing school journey. "The instructors put their faith in our abilities on the first day and reassured me that I picked the right place to be," Liz says.
It's vital that you lean on staff and faculty for support whenever you have questions or concerns about online coursework, clinical rotations, or hands-on labs. "The professors want you to succeed here, you're not just a seat that's going to be filled if you're gone," Malarie says.
Your first day awaits you!
The nursing career you've always wanted is within reach, and it starts during your first day of nursing school, at orientation. At Roseman University, you will be well prepared and have plenty of resources to help you achieve success each step of the way.
Get started on your nursing education and contact an admissions advisor today!