How Veterans Become Nurses: 4 Reasons to Choose Roseman
For many of our service men and women, transition is a period that poses a variety of challenges as well as new opportunities. One of these opportunities is a path to a career in Nursing. At Roseman, we understand that the transition includes many facets for our veteran men and women who are returning to pursue their education.
Roseman University's Veteran to Bachelor of Science in Nursing (VBSN) pathway seeks to provide a supportive and resourceful environment for our Veteran students from the point of inquiry through to career by providing the necessary academic, professional, personal and mental-health support and resources that our students seek and need, thus ensuring a seamless transition from veteran through to becoming a Registered Nurse.
The College of Nursing (CON) at Roseman University was one of 31 nursing programs across the United States that was awarded a HRSA grant that targets veterans with the intent to increase the enrollment, progression, and graduation of veterans in Bachelor of Science Programs. HRSA Veteran's Bachelor of Science in Nursing Program supports the strategic plan of HRSA to improve access to quality health care and services; strengthen the nation's workforce; building healthy communities; and improve health equity.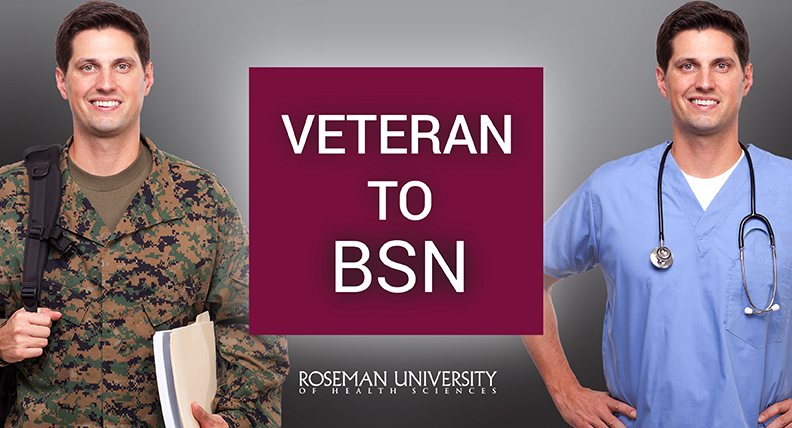 Programs that were awarded will complement the collaborative efforts of the Health Resources and Services Administration (HRSA), the Department of Defense (DoD), and the Department of Veteran's Affairs (VA) that seek to:
Reduce barriers that prevent veterans from transitioning into nursing careers
Develop BSN career ladder programs targeted to the unique needs of veterans
Explore innovative educational models to award academic credit for prior health career experience/training or other relevant military training
Improve employment opportunities for veterans through high demand careers training
Address the growing national demand for BSN prepared Registered Nurses
The VBSN pathway is available at the Henderson, NV campus Accelerated BSN programs (ABSN). This unique pathway underscores just how much value veterans bring to the nursing profession.
Features of the VBSN pathway include:
Credit for military experiences to satisfy humanities and elective courses shortening the timeframe in completing prerequisite coursework
Opportunity to test out of identified nursing blocks based on military medical training and experience
Dedicated onsite VBSN Advisor and Faculty mentor to provide exemplary supports
Innovative program options that support mastery proficiency learning utilizing a block curriculum format
State-of-the-Art program offerings and technology to advance the learning process
Multiple start dates (July, October and February)
Read more and discover 4 ways our VBSN pathway is helping military veterans achieve their civilian career dreams.
1. We Value Your Experience (and Work Ethic)
Everyone knows about the G.I. Bill® Over the years, this landmark legislation has provided our veterans with various benefits, including grants to help veterans with school financing. However, colleges generally don't accept the credits our veterans earned while in the military, so they are often starting from scratch.
At Roseman, on the other hand, we value the unparalleled, hands-on experience our military veterans bring home with them. For instance, a medic back from two tours overseas knows what it's like to apply sutures in a dangerous, emergency situation. Some nursing programs do not recognize this experience and training, leaving veteran students feeling frustrated.
Through our VBSN pathway, we're able to embrace this unprecedented experience and give veterans credit for what they already know how to do and therefore, we are able to accept the transfer of military credits to satisfy designated prerequisite requirements. We are also aware that each student brings different experiences and therefore an individual plan will be created for each student based on their civilian and military academic record.
2. You Can "Test Out" of Nursing Blocks
When speaking with prospective students about our nursing program requirements, our admissions advisors often get asked the question, "Can I just test out of that?" And, the answer to that question is almost always "no." In some circumstances, however, the VBSN pathway allows for testing out of blocks. Students with military medical experiences and training are reviewed to determine if they are eligible to test out of designated blocks in the curriculum.
In the blocks involving skills and specified competencies, a challenge system allows veterans to demonstrate the knowledge, skills and abilities necessary to receive credit. This consists of cognitive assessments and a competency skill set demonstration in a simulation laboratory.
In order to prepare, veterans have access to faculty prior to the challenge. Then, using the competency-based skills checklist and the videotaping system, veterans have the opportunity to evaluate their performance, prior to the assessment, and engage in remediation if needed. This provides qualified veterans with an opportunity to obtain credit for their prior experiences and education.
3. We Provide You with an Accelerated, Innovative Path to Success
Students have a unique opportunity to master each course through our innovative Six-Point Mastery Learning Model. Our ABSN program is taught where the educational environment not only produces and ensures the highest levels of achievement from all students, but also fosters cooperation and collaboration in the learning processes. Roseman developed and utilizes a curricular delivery called the "block" system where students take one class at a time allowing focus on one content area and mastery of that content before proceeding to the next block.
The ABSN nursing curriculum delivers a blended learning model that delivers the didactic component online, followed by in-depth, hands-on practice in state-of-the-art simulation laboratories. Upon mastery of the didactic component, students attend the experiential component of the block through clinical rotations that provide students an opportunity to take what they have learned in the classroom and apply their knowledge and experience in real-world clinical shifts that are taught by seasoned faculty in their specialized areas of practice.
4. Your Success is our #1 Goal
It's not an empty declaration — from the point of inquiry through to the start of your career as a Registered Nurse, our VBSN Faculty and Staff provide you with the support and resources to ease each transition along your journey to support your success and reach your goals of becoming a Nurse. To complement and supplement the existing services already in place at Roseman, the VBSN pathway also provides students with:
A designated VBSN advisor to assist in the pre-enrollment phases,
A Lead Faculty member who serves as the Veteran's Academic Faculty Advisor/Mentor who is also a Veteran,
Designated VBSN student services personnel to guide students to the necessary internal and external resources, and through the required educational processes, and
A VBSN Project Director to provide stewardship and oversight in ensuring that the grant provides applicable and allowable resources to meet the goals of the grant and the students' goals to becoming employed as a BSN prepared Registered Nurse.
If you're a military veteran and want to pursue your nursing education, Roseman University truly understands you and works hard to make your transition as smooth as possible. Don't just take our word for it — contact an admissions advisor today to start the conversation about your unique journey to a nursing career.
This project is supported by the Health Resources and Services Administration (HRSA) of the U.S. Department of Health and Human Services (HHS) under grant UF1HP28516, "Nurse Education, Practice, Quality and Retention – Veteran's Bachelor of Science in Nursing Program," for $1,050,000. This information or content and conclusions are those of the author and should not be construed as the official position or policy of, nor should any endorsements be inferred by HRSA, HHS, or the U.S. Government.