Q&A with a student in Roseman's accelerated nursing program in Nevada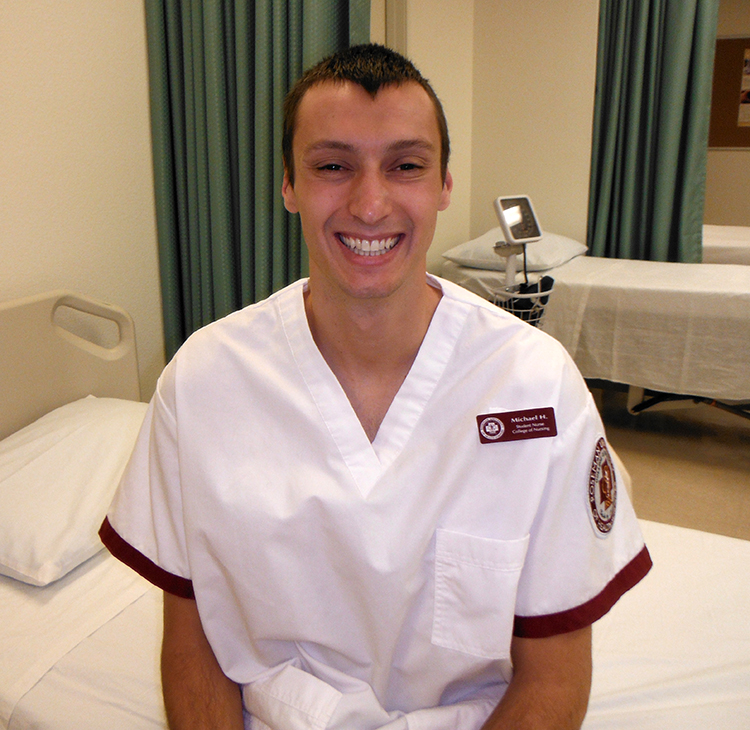 Last week on the blog, we posted a Q&A with a graduate of Roseman's Accelerated Bachelor of Science in Nursing (ABSN) Program in Nevada. Now it's time to hear from one of our current students. Michael will graduate from the accelerated nursing program in February 2014. His first bachelor's degree is in biology-chemistry.
Why did you go to nursing school?
I wanted to do something in medicine, but I didn't want to go the doctor route. My dad is a doctor, my mom is a microbiologist and my sister's a marine biologist. I wanted a career that involved more patient-to-patient contact.
I applied to a couple of nursing schools in California and didn't get in. With Roseman, I was excited to be accepted into a high-quality program. I had all the prerequisites and I could afford to live in Las Vegas, so I graduated in May 2012 and started the program in October.
What are the greatest strengths of Roseman's Accelerated Bachelor of Science in Nursing (ABSN) Program?
The hands-on lab instruction. In some programs, you can get straight A's in school and not have a clue what's going on in the real world. In the lab at Roseman, professors teach you the essential skills you really need to know.
Another strength is the camaraderie in my group. We travel together for clinicals, everybody shares their notes and materials, we have dinners together, we vent to each other. We're friends who are here to help each other.
What are the online courses like?
The online classes give you general knowledge on disease processes, diagnosing and normal patient care scenarios. They're independent, so you can go as fast as you want. If you have a test in a week on modules one through six, you can complete the modules in two days and review them for five days. It's easy to get ahead, and I can take my schoolwork anywhere. However, it's very different from a traditional classroom where the professor is right in front of you. You need to be comfortable learning on your own.
How is Roseman's accelerated nursing program preparing you for a career in nursing?
The program is preparing me to be a successful nurse in the real world. When you're reading a book or taking care of a mannequin, you get basic knowledge and practice, but there's no real pain or smells or body fluids. You have to go out and apply what you've learned. Roseman's clinicals give you that experience.
For example, in the skills lab we've practiced rolling someone over in bed. If you practice on me, a healthy male in his twenties, I just roll over. But when you're trying to move a 250-pound person with a broken hip, it's not the same. You have to be much more careful. That's where the clinicals come in.
Would you recommend the program to someone interested in nursing?
I would recommend it to people who are dedicated to their schooling and to the nursing profession. Somebody who's focused and can study 6-7 hours a day. There are people in my group with families and young kids, and they're doing just fine. It's all about what motivates you.