5 Benefits of Choosing an Accelerated Nursing Program
Career changers everywhere are seeking accelerated nursing programs to reach the goal of becoming a nurse sooner. They're finding that with much hard work and dedication they can complete their nursing degree in as few as 18 months. Read on to learn about the additional benefits of an accelerated nursing program, and discover how Roseman University can provide you with those same benefits.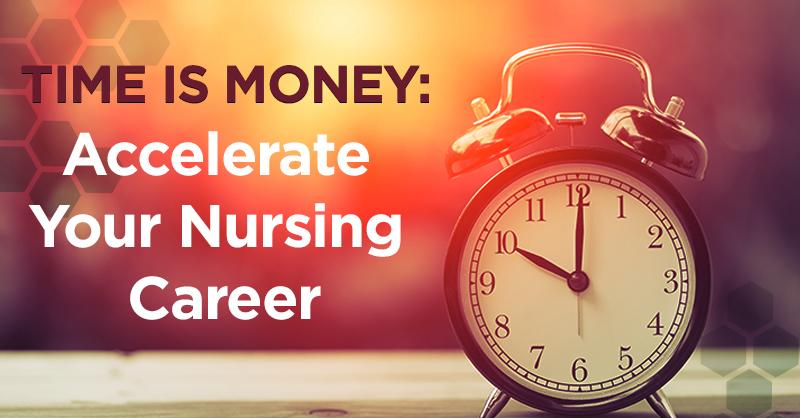 1. No prior healthcare experience? No problem.
Many people think you have to have previous healthcare experience or a previous degree in order to apply to a nursing program, but that is not always the case – specifically with Roseman University. As long as you have 54 college credits, you may be eligible to get started on a BSN degree as soon as possible.
Which brings us to our next point – before worrying about eligibility, contact an admissions advisor and utilize them to their potential. Each of our highly trained admissions advisors are happy to take the time to answer your questions, review your transcripts, and discuss your eligibility requirements for the program. So don't let your fears of getting into nursing school hold you back from accomplishing your dreams.
My advisor was very good at laying it all out, she was really supportive. – Ashley P., Current ABSN Student, Graduating in 2017. 
2. Quality Education, Flexible Program
If flexibility is what you are looking for in a nursing program, you've come to the right place. You'll have the chance to complete online coursework delivered through a dynamic e-Learning platform that will teach you important nursing theory concepts anytime, anywhere.
I prefer online learning – I can work at my own pace and I know how much time I need to put in. –Genessa L., Current ABSN Student, Graduating in 2017.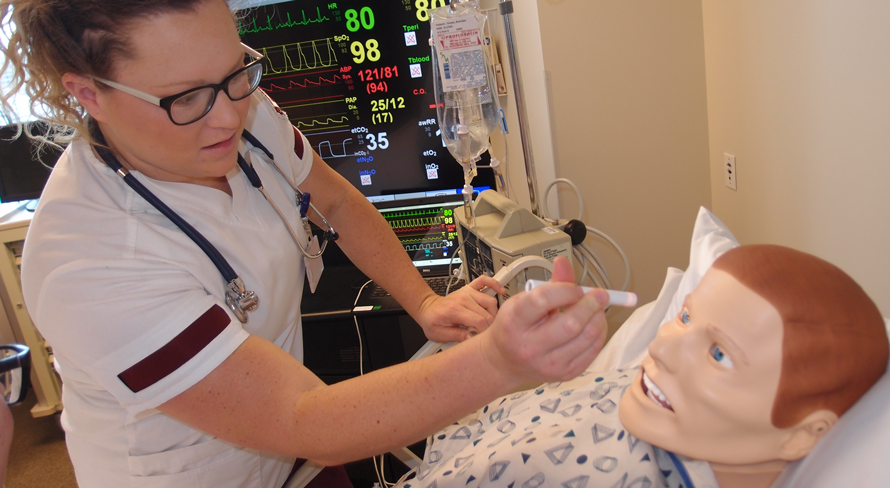 At Roseman University, we believe collaboration is key to a student's success. That's why our ABSN program incorporates hands-on, collaborative learning in skills and simulations labs and in-hospital rotations. Nursing skills labs will allow you to apply your knowledge in a controlled, risk-free environment using real hospital equipment and lifelike medical manikins. The skills you learn in the lab will heighten your confidence when practicing on real patients during your clinical rotations.
Your time in skills lab promotes collaboration and allows students to really learn the material. You truly don't know the information until you can teach it to someone else. – George H., Current ABSN Student
3. Accelerated Time Frame
If you're determined and ready to hit the ground running, our accredited, accelerated BSN program can unlock your full nursing potential in as few as 18 months. This not only saves you time but also allows you to get started on your nursing career sooner.
Because the program is accelerated, it's important to treat it as a full-time job. Our most successful students are devoted and eager to learn. They understand the dynamics of the program, anticipating the stress that's involved – and they aren't afraid to ask questions. In any rigorous, accelerated nursing program like ours, it is important that you learn as much as you can by asking questions when necessary.
I knew a lot of people who were trying to get into nursing. Some of them are still waiting to start a program, and I'm already working. – Shaun R., 2015 Graduate.
4. Mastery Learning Model + Block Curriculum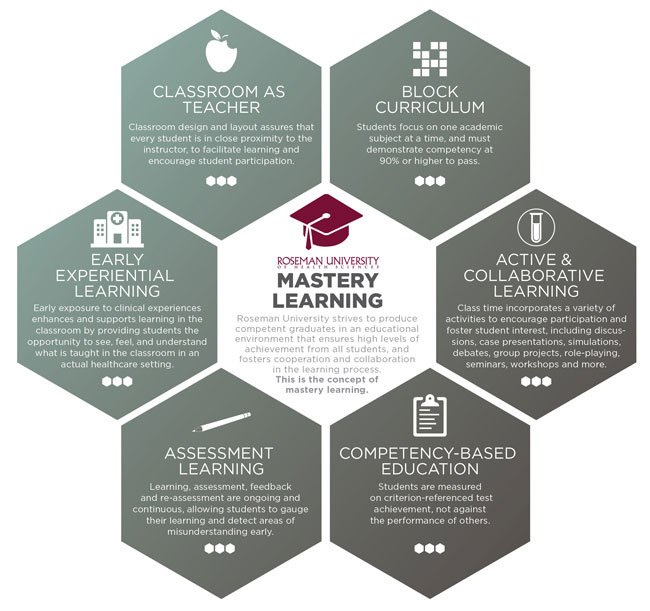 Whether you enroll in our ABSN program near Las Vegas or Salt Lake City, our accelerated nursing program will provide you with the strong academic foundation and clinical preparedness necessary for taking the National Council Licensure Exam (NCLEX).
Our ABSN program has a high retention rate, thanks to our small class sizes and Six-Point Mastery Learning Model, fostering collaboration during the education process, as discussed above.
Unlike traditional semester-based nursing programs, you'll experience each class one subject at a time, through a block curriculum. This will allow you to fully grasp the subject you are learning.
The block schedule is definitely one of my favorite things about the program. I feel like you learn the material a little bit better. – Jonathan L., Current ABSN Student
5. Accessibility You Can Count On
With the demand for nurses increasing at a rapid pace across the country, the demand for nursing education trails close behind. Yet, nursing programs with capacity are becoming harder to find.
With two program locations (Las Vegas and Salt Lake City) offering three start dates a year, you have six opportunities to get started on your nursing career sooner.
Additionally, you will have the advantage of starting clinical rotations earlier, in block three. You will encounter real-patient experience early in the program so you can get comfortable with real-world situations over your nursing school experience. That is a huge benefit that sets Roseman University's ABSN program apart from other nursing schools.
You're going to be well-prepared with all the hours you spend in clinicals – more than any other school. They prepare you well. Don't waste time debating, just jump in! – Michael S., Current ABSN Student, Graduating in 2017.
Make Your Passion for Nursing Happen
As you can see, there are many benefits of an accelerated nursing program. And those benefits are the first of many perks within the nursing field. So why wait? The time has never been better. Contact an ABSN admissions advisor and find out what you need to do to get started. It's time to pursue your true calling!