Roseman's Veteran to BSN Pathway Honors Military Service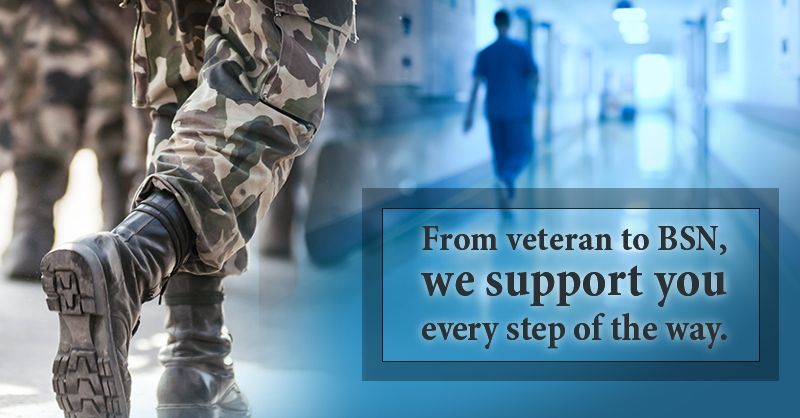 For veterans recently out of the Armed Forces, civilian life can take some getting used to. All of a sudden, everything is different — your schedule, living situation, environment, and even decision-making processes.
With veterans on our College of Nursing faculty, we understand firsthand the unique challenges faced by our nation's service members. We also realize veterans have many skills that make them particularly well suited to be nurses — alertness, calm under pressure, determination, discipline and quick thinking are all valuable traits.
This is why Roseman University became one of the first higher learning institutions to offer the Veteran to BSN (VBSN) pathway. Offered at Roseman's Henderson, Nevada, campus near Las Vegas, the VBSN pathway provides students of our Accelerated Bachelor of Science in Nursing (ABSN) program a special admissions process for former members of the Armed Forces.
 "There are benefits to having served in the military. We've had experiences, we've been in high-stress situations, we've been exposed to different things," Liz says. "Some of those experiences lend themselves to having a more adaptive sort of response."
Why Choose Roseman's ABSN Program?
In addition to Roseman's reputation for turning out highly skilled nurses, something that drew Liz and Malarie, both veterans, to Roseman was how quickly they could get through the program. Through a rigorous blend of online coursework, hands-on skills and simulation labs, and clinical practice, our students graduate prepared to sit for the NCLEX-RN in less than 18 months. Many even leave school with job offers already in hand from clinical partners impressed by their skills.
For Liz, a short program was critical — she had been out of work for a year, so it was important that she could start working toward her new career as soon as possible. She was also very intrigued by our block system, whereby the program is divided into 15 subject areas, or blocks, rather than semesters. In order to move from one block to the next, students must demonstrate competency with a 90% or higher.
For Malarie — who is from California, where you can find yourself on a nursing program waitlist for years — the fact Roseman offers multiple start dates each year and allowed her to start sooner was a deciding factor in her choice.
"I wanted flexibility," says Malarie. "I didn't want to have to wait for two years to get into the program. I knew that I wanted a school that had some credibility in the community."
However, there was something else that attracted them to Roseman … The Veteran to BSN pathway meant they would receive dedicated support from people who, like them, had served their country.
"Sometimes you just need to be able to identify with somebody and say, like, 'You know, when I was in the military, these are the things that happened, this is how I feel, this is how I think,' and just being able to share a common experience with somebody is really powerful," says Liz.
The VBSN Pathway Provides Dedicated Support Staff and a Sense of Community
Something both students appreciated about the Veteran to BSN pathway is the high level of support available to them. When you've spent significant time in the military, you become used to being around people in the military. As Malarie says, "you're going to have something in common with somebody, because everyone else is in the military."
After the military, that all changes. To ease this transition, the VBSN pathway offers dedicated veteran support staff to current and prospective students. Prior to enrollment, a VBSN advisor will walk you through the process and answer any questions you have.
"The big thing I felt going through the admissions process was that I was an individual," says Liz.
Once in the program, you will be assigned a veteran faculty mentor who will support you throughout the program, as well as a student services assistant who can help align you with resources you need for success. Not to mention, the VBSN program director will oversee your journey from veteran to nurse.
"Just having one or two people dedicated to the VBSN, the veterans, in the nursing office, makes a huge difference," says Liz. "Just knowing that they're there, being able to identify with us, understanding our experiences makes a huge difference."
All of this support translates to a sense of community for veteran students, a feeling that they're never alone in the ABSN program. But a sense of community is not unique to the VBSN pathway, veteran and non-veteran students alike report that Roseman faculty go above and beyond to make themselves available to students, whether they have questions about nursing concepts or just need to talk.
"It's like a community within a community," Malarie says. "You're already part of something with being a part of Roseman, but then you're a part of something within the VBSN."
However, the Veteran to BSN pathway offers service members enrolled in our Accelerated BSN program more than just support and a community to lean on.
Credit Where Credit Is Due
One draw of military service is that service members can get a college education during their time in Armed Forces. Unfortunately, there aren't too many nursing programs that accept military credit transfers. As part of our firm commitment to positioning service members for success, we look at the humanities and electives credits you earned during your military education and determine what can be applied to our ABSN prerequisite requirements.
Additionally, some veterans receive medical experience in the military — and we believe they deserve credit for that experience. Through our challenge system, once in the program, we give veterans the opportunity to test out of certain courses within our curriculum — Health Assessment (Block 2.0), Fundamentals of Nursing (Block 3.0), and Pharmacology (Block 4.0). To test out, students will be required to take cognitive assessments as well as demonstrate their skills and abilities in simulation labs. Prior to doing so, students in the VBSN pathway will have access to faculty and to our videotaping system to prepare and evaluate their skills prior to the assessment.
"If I'm going to go back to school fulltime and put all my eggs in one basket," says Liz. "I might as well go somewhere where I've got people to help me carry that basket."
Earn Your BSN Degree in Less than 18 Months
If you're looking to make the transition from veteran to nurse, Roseman University's Accelerated BSN program could be your quickest path. With three start dates each year, you'll be able to earn a BSN degree in less than 18 months. You'll also receive dedicated support every step of the way through our VBSN pathway. Contact an admissions advisor today to get started.